1 hour Infinite Intuitive Soul Session:
My signature session which includes everything you need to begin your inner transformation. I use all of my abilities including Reiki, Scalar light, past life readings, mediumship, tarot/oracle, numerology, clairvoyance and more to uncover your blocks, connect with Spirit guides, angels and crossed over loved ones. You will leave feeling empowered, educated and ready to tackle the day, month, year and more!
Sessions are held via Zoom or phone.
For in person sessions (South FL local) please email [email protected].
30 Minute with Spirit 
A shortened version of my signature Infinite Intuitive Soul session. (virtual only)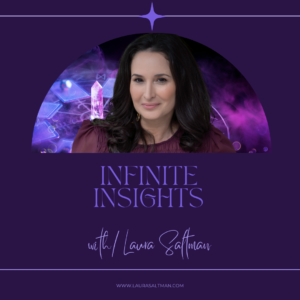 Weekly Virtual Group Readings and Messages
Channeling, Mediumship, Past Lives, Akashic Record Reading, Soul Contracts, Numerology and more…
Investment: $22
Sessions are limited to 10 attendees so everyone is guaranteed a message or reading.
Upcoming dates
Thursday 6/15 @ 8pmET
Wednesday 6/21 @ 8pmET
Wednesday 6/28 @ 8pmET

Group or Event Readings (South Florida Local) – Gather  your friends for a party with Spirit or host a table at your event for intuitive readings. 
$350 for 2 hour session 
To book please click the check availability button below to send an email with the details for your event and the date/time you were interested in.
Testimonials – Listen to what my clients say:
I've been working with Laura Saltman for over a year. I've loved every minute of it. Not only is Laura a fantastic medium, she's a phenomenal teacher. Laura told me from the beginning that she saw me as a channel. She said she saw me working with clients, doing what she was doing. At the time, it was such a deep desire of mine, but I didn't see how it was even going to be possible. Today I'm reading cards and channeling messages! Laura won't do the work for you, however she will give you all the tools you need to find your way.
When my life was turned upside down through loss, I was able to view everything in a different way. Laura is a phenomenal coach and mentor who can assist you in dealing with the challenges life presents in a more productive way. She enabled me to find hope and optimism when I thought I had none left. She is truly amazing in the work that she does.
This past year of classes and personal sessions with Laura has been more influential to my emotional and spiritual growth than several therapists over many decades of conventional therapy. She is a gift!
"During Laura's intro to "Openness & Receptiveness," my M♡M Jackie came in with full force! To the point where Laura physically JOLTED upon her arrival! Mama had something she wanted to say & make sure she was heard.. Laura even said at one point "Hold On Mom, Hold On." Once my cards were pulled it was uncanny how it all made sense when it was laid out & described before me.. M♡M had an important message for her oldest daughter & it was heard loud & clear!"
When someone comes into your life that shifts your consciousness, changes your level of awareness and opens your mind & your heart to see YOURSELF and LIFE differently, then you have met Laura Saltman.  Laura's trilogy of her "ALL" books gently (and sometimes jarringly) make you see "YOU" in YOUR life – and ALL it could be. You get to experience your own questioning of WHO YOU TRULY ARE, which with Laura, you will come to re-discover is your unique Sparkle of G-d within. When you have a personal reading with her, the "Aura of Laura" washes over you. Her gentle and loving presence instantly brings you a sense of calm and hope that the answers you seek are near. And, with Laura's intuitive gifts, they are.  Clear, concise messages of Love and Guidance are brought to you. Belief and Possibilities Bloom. New paths emerge. As a Spiritual Guide myself, it is Laura's energy I TRUST to guide ME.  I am grateful beyond measure to have her in my life as my dear friend and Spiritual Mentor. And, you will be, too.
I loved my session with Laura. She is intuitive, empathetic and has a deep connection with the spiritual realm. I had the honor of spending the day with her at a retreat she led followed by a fantastic Tarot reading where I received clarity and confirmation for the questions on my heart. I would highly recommend her to any friend of mine.
I came to Laura's books from a friend and personally found them to be a true spiritual interpretation in the likes of A Course in Miracles and Neale Donald Walsch's Conversations with God. They have been a joy to read, ponder and absorb and to know that a younger generation of enlightened beings continue to receive and share from Source.
I also had a tarot reading with Laura and it was spot on. Her casual demeanor made it seem like a comfortable conversation with a good friend. But it was much more – the cards and the connections drawn were enlightening. It was my first tarot reading ever and the insights gained were helpful and inspiring. I highly recommend!
Laura's one-on-one sessions gave me a better understanding of myself and the world around me. Her connection to the universe is truly inspiring. She empowers you with knowledge and tools to navigate through this life. Her sessions are a comfortable conversation…. like hanging out with a close friend. Laura has truly inspired me to listen to my inner voice and develop my connection to the universe.
Disclaimer:  Information you receive during an Intuitive Soul Session does not constitute legal, psychological, medical, business or financial advice. Choices and/or actions based on the content of your session are your responsibility. Do not take the advice given in any reading in lieu of medical, legal, or professional advice. You also agree to not hold Laura Saltman or any of her associates or affiliates liable for any information that is received during a reading. Any action you take as a consequence of this reading is solely your responsibility.